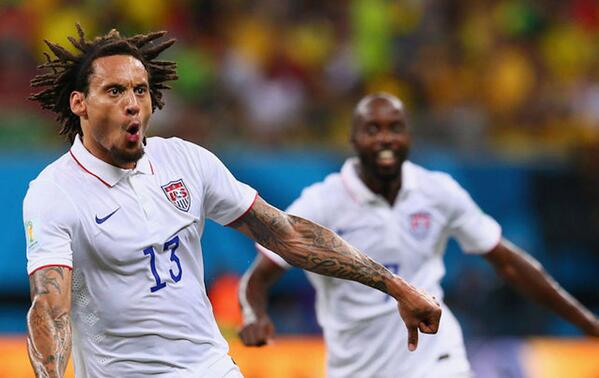 Varela heads in a cross from Ronaldo In the 95th minute to tie the game just before the final whistle.
Highlights
5th minute
Goal Nani
Horrible mistake from Geoff Cameron, who scuffs his clearance straight into the feet of Nani who slots home comfortably from five yards out.
64th minute
Goal Jermaine Jones
The States win a corner kick that falls to Jermaine Jones at the top of the area. He has a touch to get by Nani, and curls a screamer inside the far post! Beto didn't even move. He couldn't move, it was picture perfect from the Besiktas midfielder!
81st minute
Goal Clint Dempsey
GOOOOOOOOAL! CLINT DEMPSEY PUTS THE AMERICANS IN FRONT! INCREDIBLE SCENES IN MANAUS!
95th minute
Goal Silvestre Varela which denies Jurgen Klinsmann's men immediate qualification to the last-16