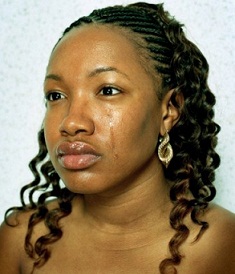 The shiagu community in Ivo Local Government Area of Ebonyi State erupted, following the discovery of a shrine where
ritual killings allegedly took place. The Sun Reports
It was gathered that when the nefarious activities going on in the shrine were ex­posed, youths of the community went wild and destroyed the shrine as well as the prop­erty of the Chief priest and two suspected agents (names withheld by us) from Ngwog­wo community. Among the items recovered from the shrine is a picture of the Chief priest holding something that looks like a human hand as well as a register said to be containing the names of the people who had been killed by the evil men and those yet to be killed.
And to prevent the situation from getting out of hand, the police stormed the commu­nity and arrested some people.
When the reporter went to Ishiagu on May 7, there was apprehension in the air. Apparently gripped by fear, the villagers kept sealed lips. Even the traditional ruler, HRH Eze Lawrence O. Chukwu, Ibina 1 of Okue autonomous community, an old fel­low, claimed that he had not been properly briefed on the matter.
However, the body language of the people spoke volumes. They appeared to be living in palpable fear. For instance, an indigene of the community, Mr Charles (surname with­held) who was supposed to be our contact person chickened out when the reporter ar­rived Ishiagu. In fact, in Ishiagu, the fear of ritualists is the beginning of wisdom. Or so it seems.
And this is coming not long after suspected ritualists invaded the community and stole nine children.
Mrs Nnenna Emmanuel Okonkwo, a mother of six, whose two children were stolen in one night told the Sun of how she lost 2 children in one night,
"As I was sleeping, I was woken up at 4am when I heard the sound of my door be­ing broken. I began to shout inside my room, 'who is that? Who is that? Who is that?' Then some men broke down the door and pointed their light at my face. They started dragging my eight-month old son with me and I called out to my mother-in-law in the next room, telling her that some people had broken into my room to take away my baby.
As I was struggling with them, they gave me dirty slaps on either side of the cheek. The impact of the slaps as my eyes were covered with blood. As they were taking my child away, my husband's younger sister blocked them outside. So, they kicked her with their boots and she fell, hitting her waist on the ground.
"Then, they went to the other room where my mother-in-law and my daughter were sleeping and broke down the door as well. They entered the room and took away my daughter, aged three years and seven months who was sleeping with her grandmother. My mother in-law shouted that they can shoot her but leave her grand children, but they refused. They carried the two children into the vehicle they parked outside. Before our neighbours could come out, they had zoomed off. Since then, we have not set eyes on the children. My mother in-law said she could not live with what happened; that it was better for her to die. And she died two weeks later."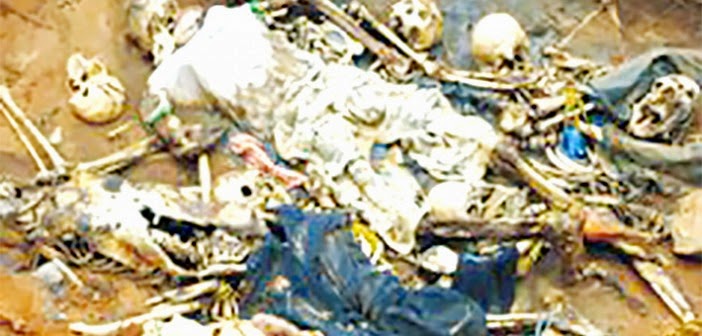 In a related development, a six-man gang which specialised in the sale of human parts for ritual purposes in Nkwerre, Imo State was recently smashed by the local vigilance group. It was gathered that when members of the gang were arrested, they confessed that they had been kidnapping their victims at various locations in the state.
They also volunteered that they use the vital organs of their victims for rituals even as some were harvested and sold to people who needed them to transplant failed organs.
Confessing to the crime, they explained that the prices for their 'goods' were not fixed. According to them, they sold the parts between N500,000 and N1million, depend­ing on what was in demand.
The gory act assumed a life of its own when the men took members of the local vigilance group and policemen to their abat­toir in a forest in Umugara village, Nkwerre where the decomposing corpses of some of their victims, mostly women and children were found.
Recently, a heap of over 20 human skulls, skeletons and decomposing bodies were un­covered at Kilometre 15 on the Aba/Azumi­ni Highway, otherwise known as 'No man's land' after Akpaa village in Obingwa LGA of Abia State. There, victims are butchered and their vital organs removed. One of the vic­tims was identified as 26-year old Onyekachi Chukwu, who hailed from Ahaba Imenyi in Isuikwuato LGA of Abia State.
A source attributed the upsurge of ritual killings to forthcoming election and the get-rich-quick syndrome.
"As we approach the election year, many desperate politicians will go to any length in order to win election. They will engage the services of native doc­tors who may request for human body parts to do the medicine. And because the end jus­tifies the means for them, they will engage thugs to kidnap and kill people whose body parts will be removed and forwarded to the native doctors who requested for them.
"Again, the get-rich-quick bug seems to have bitten more people nowadays. And such desperados are ready to do anything, in­cluding harvesting human organs for money rituals,"