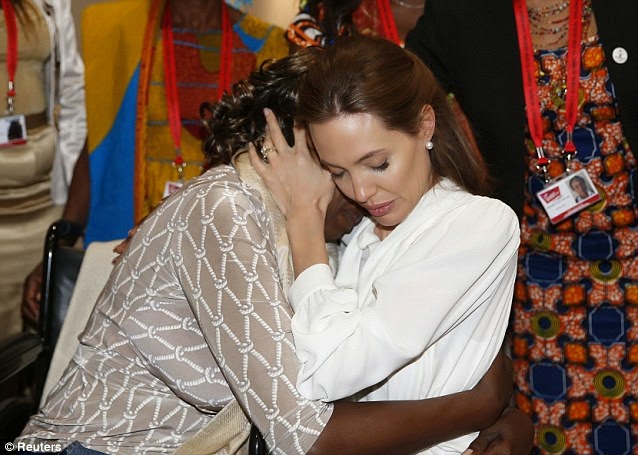 Angelina Jolie is one of the few genuine celebrities with a true heart of gold .During the End Sexual Violence in Conflict'

summit in London today,she was moved to tears as she listened to victims of sexual assault speak about their experiences.She spent time embracing and consoling them .
According to AP,One woman spoke of her attack in Minova in the Democratic Republic of Congo:
'The man said that he wanted to rape me, that if I refused he is going to kill me. Then another five men came. They all raped me. My daughter keeps asking me about her dad. When I try to reveal who her father is, it is really hard for me.I fear also telling her because a lot of men raped me… it is really hard for me to tell my daughter. I just feel really depressed, when I think of it I burst into tears. I feel like I am nothing. Sometimes I even feel like dying"
Another survivor said
'I didn't see their faces, I don't know them, how can you see someone who is hitting you in the eyes? How will you know someone who is inserting a gun barrel into your mouth, and then between your legs? Then he leaves, and another one enters.'
Angelina said she wanted to dedicate the conference to a rape victim she and Hague recently met in Bosnia.
'She felt that having had no justice for her particular crime, in her particular situation, and having seen the actual man who raped her on the streets free, she really felt abandoned by the world..This day is for her.I've met survivors and spent time with them. I'd heard their stories and became very emotionally involved and I thought – what can I possibly do to help,'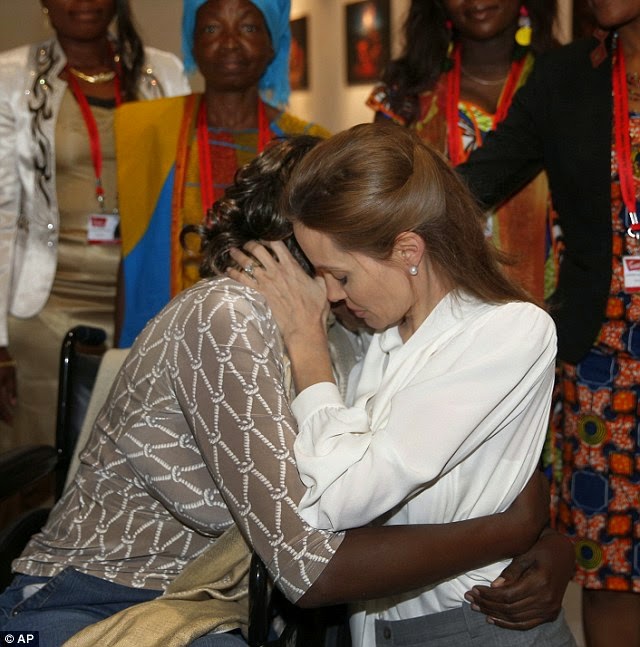 Clutching fellow activist and peacemaker Neema Namadamu whose 25 year old daughter was attacked
The summit which she is co-hosting with Foreign Secretary William Hague is the largest summit ever held on subject of sexual violence in war.